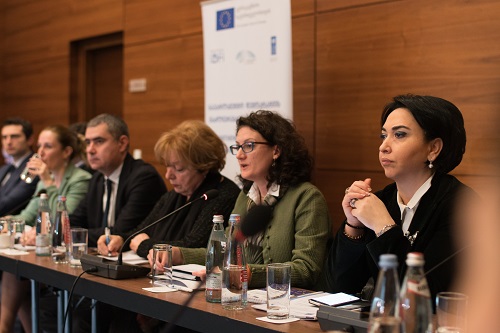 60 representatives of business companies met members of the Georgian Parliament on 2 April 2018 to discuss how legislative openness affects business environment and offer some practical suggestions for Georgia's third, 2018-2019 Open Parliament Action Plan. The meeting was organized by the Permanent Parliamentary Council on Open and Transparent Governance with the support from the European Union (EU) and United Nations Development Programme (UNDP), in cooperation with the Institute for Development of Freedom of Information (IDFI).
"Georgia has achieved significant progress over the past few years in opening up the parliamentary work to the public. Cooperation with the wide circles of the Georgian society, including the private sector, is the key to move forward and develop an effective action plan that will guide our work in the next two years," – said Irina Pruidze, Chairperson of the Permanent Parliamentary Council on Open and Transparent Governance.
Kakha Kuchava, Chairperson of the Parliamentary Committee on Environmental Protection & Natural Resources, noted the role of the private sector in strengthening parliamentary transparency through the effective use of technology and innovation.
The meeting participants discussed Georgia's progress to legislative openness since 2015 and the challenges that will be addressed in the new Open Parliament Action Plan.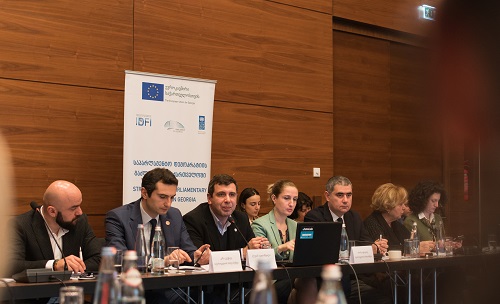 "The European Union supports the Parliament of Georgia in its efforts to open up a discussion space with the private sector. This process benefits both law-makers and entrepreneurs, especially considering Parliament's crucial role in promoting investment climate and creating enabling business environment in the country," – said Sophie Huet Guerriche, Coordinator for the Governance Sector at the EU Delegation to Georgia.
Members of Parliament received information about the ideas and suggestions for the Open Parliament Action Plan 2018-2019, collected at the public consultations in eight cities of Georgia (Telavi, Rustavi, Marneuli, Alkhaltsikhe, Kutaisi, Zugdidi, Batumi and Tbilisi). The information campaign was organised by the Parliament with assistance from the EU, UNDP and IDFI. Levan Avalishvili, IDFI's Programs Director, presented a summary of these public discussions and opened floor for new comments and suggestion from business representatives.
Gigi Bregadze, UNDP Democratic Governance Team Leader in Georgia, stressed the importance of collaboration and partnership for achieving legislative openness.
"Open Governance connects citizens to policy makers through the variety of platforms and resources. Government, Parliament, local authorities, non-governmental and private sectors, academic circles and other national stakeholders – are all important players in achieving effective, accountable and transparent governance," he said.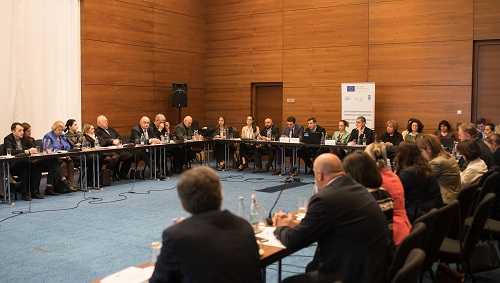 Open Parliament is part of Georgia's efforts under the Open Government Partnership (OGP), international platform that unites 75 countries to help their governments become more open, accountable, and responsive to citizens. Georgia is chairing the OGP this year and will be hosting the 5th annual OGP summit in July 2018. The European Union and UNDP are supporting Open Parliament in Georgia under their wider programme for str